Qualcomm® Snapdragon™ 845

Өндөр хүчин чадалтай процессор

Байршил тодоройлох өндөр нарийвчлал

Харанхуйд ч таны царайг танина

Өнгөний өндөр нягтаршил, нарийвчлал

Нимгэн, 4 тал нумарсан загвар

Гарт барихад хөнгөхөн нимгэн эвтэйхэн

AI-Beautify гоо сайханы горим

12MP + 12MP

Мэргэжлийн студи гэрлийн эффектүүд

Кино мэт чанартай засвар хийнэ

Түргэн цэнэглэлт 4+* дэмжинэ

Android Pay дэмжинэ

27 давтамж дэмжинэ
AI dual camera with optical zoom
1.4μm large pixels brighten and bring out the details of nightscape photos.
SLR-quality dual pixel auto focus allows the Mi 8 to snap photos rapidly.

SONY IMX363

Optical zoom

4-axis optical stabilization

1.4μm large pixels

Dual camera designed for portraits

Dual pixel autofocus

12MP + 12MP dual camera

Hardware multi-frame noise reduction
20MP front camera
3D Beautify blurs backgrounds for stunning portraits
Powerful analytic capabilities couple with 1.8μm large pixel (4-in-1 Super Pixel) technology to produce clearer, brighter selfies.
The newly upgraded 3D Beautify uses AI to blur backgrounds with a single camera. It's as if each shot is taken in front of a studio canvas.
3D Beautify
Highlights features and shows a real-time preview
AI analyzes every facial feature and creates a 3D model, which it uses to highlight features and capture your best self. It can even detect the angle of the shot to ensure that your selfies are always natural.



Slender Big eyes Nose



Risorius Lips Chin
AI scenescape photography
Intelligently detects 206 scenes
The AI camera can distinguish between 206 common scenes and automatically adjusts exposure, saturation and other optimizations.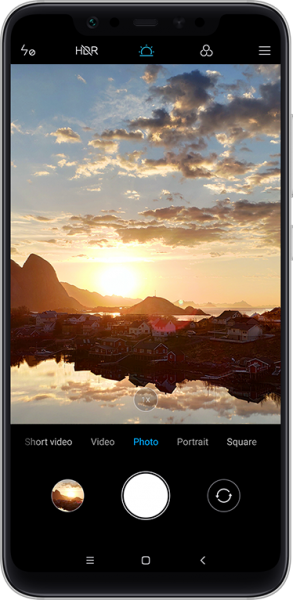 AI scene detection
Automatic optimizations capture
vast scenic beauty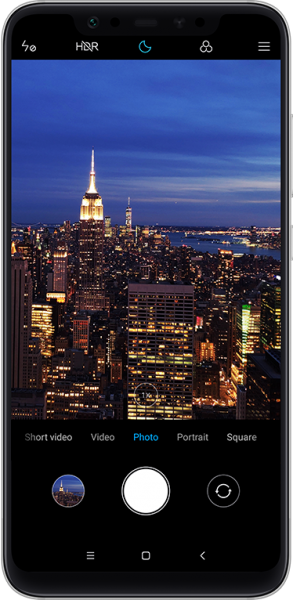 AI nightscape recognition
Smarter analytics means clearer
nightscape photos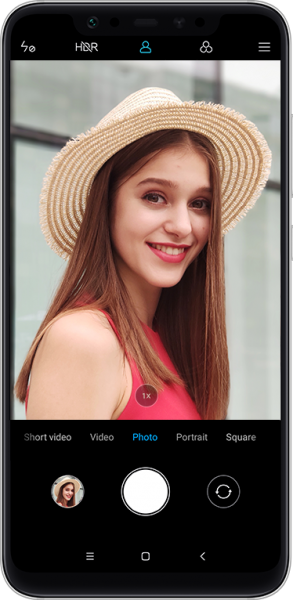 AI portrait recognition
Spectacular portraits are instant
and effortless
IR face unlock
Instant face unlocking even in darkness
6.21" AMOLED Full Screen Display
Mi 8's brilliant Full Screen Display measures 6.21" (diagonal).
A phone of this size would traditionally have a 5.5" display.
60000:1 DCI-P3 86.68% 18.7:9
High contrast Wide color gamut Screen to body ratio 2248x1080 resolution
Qualcomm® Snapdragon™ 845
The Snapdragon™ 845 is another leap forward in perfromance from Qualcomm®.
Whether you're switching between multiple apps or battling the enemy in an intense game, this processor is an indispensable tool.
Dual-frequency GPS
Exceptionally accurate navigation
Mi 8 is the first ever smart phone equipped with dual-frequency GPS. By using both L1
and L5 signals in coordination, accuracy is improved to unprecedented levels.
Multifunction NFC
Not just your phone—your wallet too
Supports Android Pay